How to call
1
Select an access number
What is an access number?
Choose an access number based on your current location:
Gaithersburg240-912-0397
Frederick240-397-2950
Washington Zone 10240-499-0240
Dale City571-298-2007
Baltimore443-810-2294
Toll Free855-810-0555
0800 Freephone numbers will incur a small 1p/minute surcharge from Valuedial to cover the cost of providing this number.
Search for more access numbers near you
2
Enter your PIN
Sign up to get a PIN now or see the back of your card if you have one.
Once you've entered your PIN you can use PIN-less dialing to save time.
OR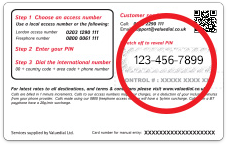 Sign up to save this PIN for future use
3
Dial your international number and save money
View all country rates


Calling from a mobile or landline?
It's best to use a LOCAL access number when using a mobile or landline.
Your monthly plan will generally include free or inclusive minutes to our local access numbers.
Mobiles usually don't allow free calls to 0800 numbers.
---
You can use ANY access number to make calls from a landline phone.
Your operator's rates may apply when using our local access numbers, but depending on your phone package these calls are usually free.
If you dial a Freephone number you won't pay your operator anything for the call. However there is a 1p/min surcharge to cover the cost of providing this number.
Save time with PIN-less dialing

PIN-less dialing is a neat little time saving feature. You can set it up on any Landline or Mobile device meaning you will no longer have to remember and re-enter your PIN each time you want to make a call.
Read more about PIN-less dialing
How to dial an international number
E.g. calling a US number from within the UK
International dial code:

00

+ Country code:

52

+ Phone number:

624 146 5753
Hotel phones
We don't charge anything extra to make calls from hotel phones, but some hotels may add their own calling charges.